"Mousseline-Jerusalem" is a boutique ice cream parlor, offering a selection of fine French ice creams and fresh fruit sorbets. Along with the traditional (excellent) flavors of vanilla-coffee-chocolate, you can find in Mousseline unusual flavors such as; black sesame ice cream, Matcha ice cream, wasabi, saffron ice cream, and chai masala ice cream.
Among the sorbets you can enjoy grapefruit basil, sour cherry sorbet, coconut, lemonade and more.
In contrast to the industrial ice cream, which is often made of powders, flavor and fragrance, the boutique ice cream is made from the real foundation of ice cream: milk, cream, egg yolks, fruit, water and sugar. We, in Mousseline-Jerusalem, are meticulous about the quality of the raw materials used in the manufacture of the ice cream: quality cocoa powder, real Belgian chocolate, Bourbon vanilla sticks from Madagascar, espresso and espresso coffee (100% Arabica).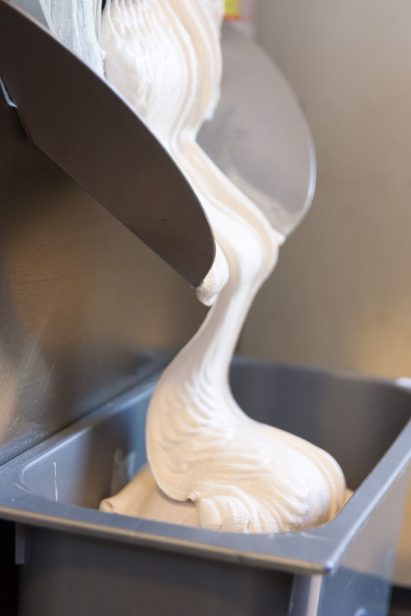 Our sorbets are made from fresh fruit, peeled, cut, squeezed, ground and filtered by hand. The fruits are provided to us from local farmers: red and black raspberries, passion fruit, mango, sabras and cherries.
The Mousseline-Jerusalem has a distinctly French orientation. The professional knowledge was acquired by the founder Orit Vardi at the ECOLE LENÔTRE High School of Gastronomy in Paris, in a course that combined theoretical, scientific and extremely accurate knowledge with practical knowledge in the production of ice cream and sorbet. Our kitchen is dominated by strict rules that ensure orderly and clean work, the quality of raw materials and the finished product, as well as creativity while striving for perfection. Beyond that, and perhaps no less important, we come from love: the love of the pastry shop, the love of manual labor and the love of the coffee salons.
Gluten-free ice cream and Kosher LeMehadrin – The Jerusalem Rabbinate